Overview
The property is exceptionally situated and secluded, only five minutes drive from Benahavis and twenty to thirty minutes from the marinas, restaurants and beaches of Puerto Banus, Marbella and Estapona. The estate comprises an extensive and historic Spanish manor farmhouse and a more recently built guest house, central heating and furnished with Spanish antiques and Mallorcan fabrics. Incorporating the ruins of a Moorish tower, the house is surrounded by a beautiful terraced garden which still has the original Moorish irrigation streams and channels. The estate consists of several hundred hectares of completely private and totally unspoilt indigenous Iberian woodland, dissected by the Guadalmina River and a series of crystal clear springs and streams, a small organic farm and organic kitchen garden. The full time staff comprises: the estate manager, a cook, 3 housekeepers and several gardeners, farm hands and handymen.

The main house has a living room, dining room, kitchen, two family TV/sitting rooms, Sky TV and wireless broadband, five double bedrooms with ensuite bathrooms and a further double bedroom and single room with a shared bathroom. The guest house, with its own kitchenette, has an additional three double bedrooms, each with an en-suite bathroom. The bedrooms are air conditioned. Throughout the property there are numerous shaded terraces for outside dining and for relaxing. There are two swimming pools,one is being heated in the autumn, winter and spring. Between the main house and the guest house, there is a spacious and very well equipped games room/TV room and behind the main house there is a tennis court and a helicopter landing pad behind the tennis court.

The farm and the vegetable gardens provide home-grown organic meat, vegetables and fruit.



Basicdata:
Type:
Villa
Bedroom:
10
Sleep:
18
Bathrooms:
9
m² living:
1000
m² plot:
6650000
Near the coast:
nein
Distance:
Airport:
80 km
Beach:
7 km
Golf:
5 km
Shop:
1 km
Contact details:
HLL Holiday Locations LTD
61-63 Lord Byron Street, 5th floor, App. 502 - ; CY - 6023 Larnaca - Cyprus
Tel.: +357 240 204 78 Office Cyprus 9h30 - 16h (MEZ + 1 h)
Tel: +34 664 447 173 Office Spain 11h - 21h on 7 days a week
Mob.: +34.600.071.609
E-M@il:
mail@holiday-locations.com
use our Live Chat if we are online
or otherwise
Please take contact:




Requested property: Vacation rentals | TRAMORES ESTATE, Andalucia, Southern Spain

This very private estate is hidden away in the hills behind the traditional town of Benahavis, 10 bedrooms, 2 private pools (one is heated) for holiday rentals.
---
similar properties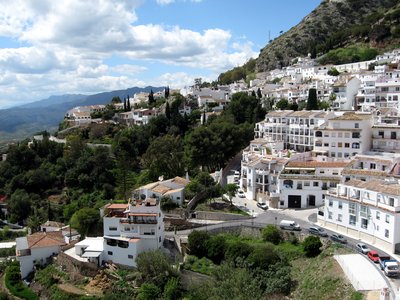 (Villa with 10 bedrooms in )