Overview
The modern island kitchen is fully outfitted and contains all the necessary machinery, cooking appliances, crockery, silverware and washing facilities.
There's a large lounge with two sofa arrangements, a fireplace and a satellite television set. There's a tower leading to first floor a nd large roof terrace.
Three large terraces provide spectacular views over sea, mountain and a mature tropical style garden as well as the opportunity for dining al fresco and secluded sun bathing.
The villa, private beautiful garden featuring a pool, distinguished BBQ area, multitude of flowers, shrubs, palm trees and private parking are all fully secure within solid walls and locked doors all around. The beach is only 150 m away from the villa.
The town of San Pedro is a five-minute drive or, for those with more energy, a twenty minute walk. The lively village of Puerto Banus, with its active night life, is three kilometers away and the lovely town of Marbella, with its modern shops and quaint Old Town, are within a ten kilometer radius.
Many restaurants are an easy walk away, some on the Paseo Maritimo and others, directly on the beach. Shopping areas are nearby.
Water sports are available just a short walk away and golf courses are in close proximity. Swimming in the private pool, hiking in the mountains, playing tennis close by and strolling along the beach enable one to either exercise or simply enjoy the sound of the rolling surf.
The peace and serenity of this villa allows one to comfortably relax in complete privacy as well as serve as a point of departure to enjoy the many places of interest, the numerous activities and the ambience of the Costa del Sol and the very attractive "white villages" in the nearby mountains.
The micro-climate of San Pedro is the world's best, with the most sunny days, dry very agreeable summer temperatures and extremely mild winters.
To return to the villa, after a day of shopping, sightseeing or engaging in other activities, unwind with a dip in the pool and experience the serenity and security provided by the villa is to fully enjoy sunny southern Spain.



Basicdata:
Type:
Villa
Bedroom:
5
Sleep:
10
Bathrooms:
3
m² living:
220
m² plot:
700
Near the coast:
ja
Distance:
Airport:
50 km
Beach:
150 m
Golf:
2 km
Shop:
300 m
Contact details:
HLL Holiday Locations LTD
61-63 Lord Byron Street, 5th floor, App. 502 - ; CY - 6023 Larnaca - Cyprus
Tel.: +357 240 204 78 Office Cyprus 9h30 - 16h (MEZ + 1 h)
Tel: +34 664 447 173 Office Spain 11h - 21h on 7 days a week
Mob.: +34.600.071.609
E-M@il:
mail@holiday-locations.com
use our Live Chat if we are online
or otherwise
Please take contact:




Requested property: Family vacation villa in Linda Vista, San Pedro de Alcantara, 4km from Puerto Banus

The villa contains four full and two auxiliary bedrooms. There are 3.5 bath rooms of which two are en suite and additionally one bathroom connected to the pool area.
---
similar properties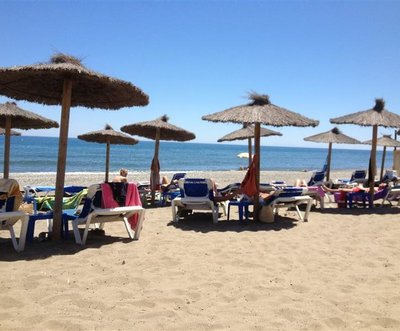 (Villa with 5 bedrooms in Linda Vista)