Property ID. 34121074:

Villa with indoor pool in Nueva Andalucia, Marbella area for holiday rentals

Luxury Villa with 7 bedrooms, indoor and outdoor pool, Nueva Andalucia, Marbella, to rent

Modern style villa with seven bedrooms, two swimming pools with a waterfall, spacious living room with separate dining area, elevator, gym, sauna. Situated in a quiet area of Nueva Andalucia
Overview
The property comprises seven bedrooms in total, six of which have double beds and the seventh has two single beds which can easily be pushed together.
Spacious contemporary villa, faces south east and offers spectacular views to Sierra Blanca Mountain and Los Naranjos golf course. Villa is built on three levels. Easy access to all floors by an elevator or staircase. Panoramic views from the roof terrace. Main floor: Entrance hall, spacious living and dining room with open fireplace. Direct access to a large covered terrace and garden. One bedroom suite. Cloak room. Recently renovated modern kitchen, laundry room and a separate bedroom with bathroom for maid. Plenty of storage space. First floor: Master bedroom suite with fireplace and terrace with excellent views. Two more bedrooms with bathrooms; one facing east and the other one towards west. Both of these bedrooms have their private terraces. Ground floor: Huge family room; now used as a bedroom suite. Direct access to the swimming pool.
Basement: Living room, two bedrooms (one with en-suite bathroom), gym, table tennis, sauna, indoor swimming pool. Indoor swimming pool (can be heated) with sauna & gym. Landscaped garden with 2 swimming pools.
A very special property in excellent location.



Basicdata:
Type:
Villa
Bedroom:
7
Sleep:
14
Bathrooms:
6
m² living:
1000
m² plot:
3200
Near the coast:
ja
Distance:
Airport:
65 km
Beach:
4 km
Golf:
100 m
Shop:
2 km
Leisure facilities / Activities: / Property details:
View:
Mountain view
View to the Golf
Panoramic view
View to the pool
Suitable for:
Wheel-chair accesable
Handicaped people
Pets not allowed
No-smoking
Themes:
car recommended
beach side
near Golf
Sightseeing
Families wellcome
Luxus
Nightlife
Leisure facilities:
Commercial Centre
Shops
Restaurants
Pubs
Disco
Café
Internet café
Aqua - Parc
Lessure parc
Harbour
Church
Parc
Market
Activities:
Diving
Fisching
Golf
Riding
Mountain biking
Sailing
Surfing
Swimming
Tennis
Water skiing
General:
linen, bed-sheets
cleanign service
towels provided
Outdoor:
Terrace
Terrace furniture
Balcony
Alarm
Roof terrace
Garden
Sun beds
Barbecue
Sauna
Gargage
Elevator
Private Pool
Heated Pool
Indoor pool
Indoor:
cd player
dvd player
Flatsreen TV
TV
Satellite
Internet
Telefon
Air Condition
Heating
open fireplace
Washing machine
Iron
Iron-board
Fitness room
Trumble dryer
Kitchen:
Kettle
Toaster
Dishwasher
Freezer
Fridge
Coffee-machine
Microwave
Oven
Blender
Bathroom:
Beds:
6 Double beds
2 Single beds
0 Sofa bed
2022

01
02
03
04
05
06
07
08
09
10
11
12
13
14
15
16
17
18
19
20
21
22
23
24
25
26
27
28
29
30
31
January
Sa
Su
Sa
Su
Sa
Su
Sa
Su
Sa
Su
February
Sa
Su
Sa
Su
Sa
Su
Sa
Su
March
Sa
Su
Sa
Su
Sa
Su
Sa
Su
April
Sa
Su
Sa
Su
Sa
Su
Sa
Su
Sa
Su
Mai
Su
Sa
Su
Sa
Su
Sa
Su
Sa
Su
June
Sa
Su
Sa
Su
Sa
Su
Sa
Su
July
Sa
Su
Sa
Su
Sa
Su
Sa
Su
Sa
Su
August
Sa
Su
Sa
Su
Sa
Su
Sa
Su
September
Sa
Su
Sa
Su
Sa
Su
Sa
Su
Sa
Oktober
Sa
Su
Sa
Su
Sa
Su
Sa
Su
Sa
Su
November
Sa
Su
Sa
Su
Sa
Su
Sa
Su
December
Sa
Su
Sa
Su
Sa
Su
Sa
Su
Sa
<<2021
2023 >>
= ARRIVAL DAY
= DEPARTURE DAY
= BOOKED
Rates
from
to
daily rate
weekly Rate
Minimum days
Prolongation
Basic rate
2000.00 €
11000.00 €
5 days
1 days
01.05
30.06
1800.00 €
12000.00 €
7 days
1 days
01.07
31.08
2000.00 €
14000.00 €
7 days
1 days
01.09
30.09
1800.00 €
12000.00 €
7 days
1 days
20.12
10.01
1800.00 €
12000.00 €
7 days
1 days
departure cleaning
350.00 €
breakage deposit
2500.00 €
BOOKING TERMS
If nothing else noted in the description of this property, the booking terms are as follow:
30% as downpayment
20% 90 days before the arrival
50% 30 days before the arrival as balance, with this last payment you can also pay the security deposit, or the arrival day in cash.Top

|

Video

|

Availability

|

Rates

|

Map

|

Reviews

|

Contact details

|
Contact details:
HLL Holiday Locations LTD
61-63 Lord Byron Street, 5th floor, App. 502 - ; CY - 6023 Larnaca - Cyprus
Tel.: +357 240 204 78 Office Cyprus 9h30 - 16h (MEZ + 1 h)
Tel: +34 664 447 173 Office Spain 11h - 21h on 7 days a week
Mob.: +34.600.071.609
E-M@il:
mail@holiday-locations.com
use our Live Chat if we are online
or otherwise
Please take contact:




Requested property: Luxury Villa with 7 bedrooms, indoor and outdoor pool, Nueva Andalucia, Marbella, to rent

Modern style villa with seven bedrooms, two swimming pools with a waterfall, spacious living room with separate dining area, elevator, gym, sauna. Situated in a quiet area of Nueva Andalucia
---
similar properties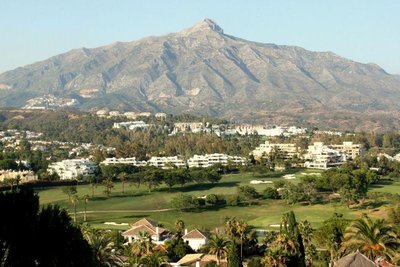 (Villa with 7 bedrooms in Nueva Andalucia)