Property ID. 34121336:

Villa sleeps 8, frontline beach in Mijas El Chaparal, Mijas/Mijas Costa area for holiday rentals

Holiday villa with direct access to the beach in El Chaparral, Mijac Costa for Holiday rentals

Holiday Family villa right on the beach in Mijas Costa, El Chaparral
Overview
The villa with its outside Jacuzzi is positioned directly on the beach with a stairway leading straight into the sand.
The huge leafy gardens (2300 sq/m) are filled with palm trees and flowers and hundreds of old huge cacti. It also has a spectacularly positioned whirlpool with the view across the Mediterranean ocean. The villa comes with 4 bedrooms, 2 bathrooms, fully fitted kitchen and lovely terrace overlooking the beach.

El Chaparral has its own private Golf course, surrounded by a beautiful 100 year old Pine tree forest. Further there is a huge horse racing course in the hills behind the Villa. A leisurely 10 minute walk on the beach will take you to a charming fishing village - La Cala de Mijas, where you can enjoy traditional tapas in ones of the many tapas bars or stroll through its many shops.
El Chaparral offers a picturesque bay and quiet quaint beach with great swimming and wind-surfing year round. The ocean is generally calm and therefore also ideal for small children.

The village also hosts a lot of traditional spanish festivals.
Behind the village 500 meters up the hills lies the one of the 3 biggest golf courses of Spain called "la Cala de Mijas", in the greater vicinity you will find another 30 Golf courses.

It really is a property like no other, in an extraordinary location that will allow you to relax and explore the area.



Basicdata:
Type:
Villa
Bedroom:
4
Sleep:
8
Bathrooms:
2
m² living:
180
m² plot:
2000
Near the coast:
ja
Distance:
Airport:
45 km
Beach:
---
Golf:
500 m
Shop:
1 km
Video
Leisure facilities / Activities: / Property details:
View:
Sea view
Mountain view
Panoramic view
Suitable for:
Themes:
direct beach
Sightseeing
Families wellcome
budget
Leisure facilities:
Commercial Centre
Shops
Restaurants
Pubs
Café
Internet café
Market
Activities:
Diving
Fisching
Golf
Riding
Mountain biking
Sailing
Surfing
Swimming
Tennis
Water skiing
General:
beach towels
linen, bed-sheets
towels provided
Outdoor:
Terrace
Terrace furniture
Garden
Sun beds
Barbecue
Parking
Gargage
Indoor:
TV
Air Condition
Heating
open fireplace
Washing machine
Iron
Iron-board
Kitchen:
Freezer
Fridge
Coffee-machine
Microwave
Oven
Bathroom:
Beds:
3 Double beds
2 Single beds
0 Sofa bed
2022

01
02
03
04
05
06
07
08
09
10
11
12
13
14
15
16
17
18
19
20
21
22
23
24
25
26
27
28
29
30
31
January
Sa
Su
Sa
Su
Sa
Su
Sa
Su
Sa
Su
February
Sa
Su
Sa
Su
Sa
Su
Sa
Su
March
Sa
Su
Sa
Su
Sa
Su
Sa
Su
April
Sa
Su
Sa
Su
Sa
Su
Sa
Su
Sa
Su
Mai
Su
Sa
Su
Sa
Su
Sa
Su
Sa
Su
June
Sa
Su
Sa
Su
Sa
Su
Sa
Su
July
Sa
Su
Sa
Su
Sa
Su
Sa
Su
Sa
Su
August
Sa
Su
Sa
Su
Sa
Su
Sa
Su
September
Sa
Su
Sa
Su
Sa
Su
Sa
Su
Sa
Oktober
Sa
Su
Sa
Su
Sa
Su
Sa
Su
Sa
Su
November
Sa
Su
Sa
Su
Sa
Su
Sa
Su
December
Sa
Su
Sa
Su
Sa
Su
Sa
Su
Sa
<<2021
2023 >>
= ARRIVAL DAY
= DEPARTURE DAY
= BOOKED
Rates
from
to
daily rate
weekly Rate
Minimum days
Prolongation
Basic rate
416.00 €
2240.00 €
7 days
1 days
01.06
30.06
520.00 €
2800.00 €
7 days
1 days
01.07
31.07
552.50 €
2975.00 €
7 days
1 days
01.08
31.08
624.00 €
3360.00 €
7 days
1 days
01.09
30.09
520.00 €
2800.00 €
7 days
1 days
departure cleaning
180.00 €
breakage deposit
500.00 €
BOOKING TERMS
If nothing else noted in the description of this property, the booking terms are as follow:
30% as downpayment
20% 90 days before the arrival
50% 30 days before the arrival as balance, with this last payment you can also pay the security deposit, or the arrival day in cash.Top

|

Video

|

Availability

|

Rates

|

Map

|

Reviews

|

Contact details

|
Contact details:
HLL Holiday Locations LTD
61-63 Lord Byron Street, 5th floor, App. 502 - ; CY - 6023 Larnaca - Cyprus
Tel.: +357 240 204 78 Office Cyprus 9h30 - 16h (MEZ + 1 h)
Tel: +34 664 447 173 Office Spain 11h - 21h on 7 days a week
Mob.: +34.600.071.609
E-M@il:
mail@holiday-locations.com
use our Live Chat if we are online
or otherwise
Please take contact:




Requested property: Holiday villa with direct access to the beach in El Chaparral, Mijac Costa for Holiday rentals

Holiday Family villa right on the beach in Mijas Costa, El Chaparral
---
similar properties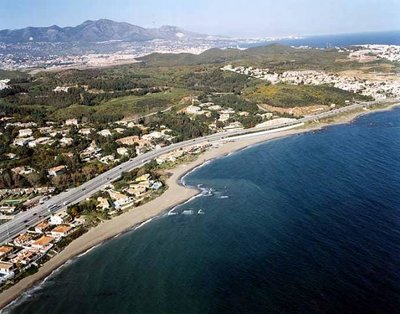 (Villa with 4 bedrooms in Mijas El Chaparal)