Property ID. 34121865:

Villa sleeps 15, Las Lagunas de Mijas, Mijas village, Mijas/Mijas Costa area for holiday rentals

5 bedroom villa with heated pool in Mijas, sea views, close to golf, Mijas.

Wonderful 5 bedroom villa in Las Lagunas de Mijas for rent, enjoying sea and mountain views. This charming villa is situated in a very quiet residential area and offers views to the sea and mountains
Overview
The villa impresses with different terraces where you can perfectly enjoy the outdoor life. Here you will spend most of the 300 sunny days per year as it is an ideal location to spend wonderful get-togethers having barbecue dinners with family and friends. The open plan living room with constitutes the central point of this sunny villa. Furthermore, you can reach beach & the azurblue sea within few minutes' drive. The perfect property for an unforgettable holiday!
The villa is deceptively spacious accommodating up to 15 people, offering spectacular sea and mountain views.
The villa consists of 2 levels each of them enjoying lovely views over Fuengirola and the Mediterranean.
As you enter the house in front you will see a spacious, full of light living room which also serves as a dining room with wonderful sofas allowing you to rest contemplating the sea. To your left you will see a fully equipped kitchen allowing you to prepare any dish for your romantic or family dinner. To your right you will see a bedroom with three single beds and gorgeous stairs leading to the second level.
The stairs will lead you onto the second level where you will find four lovely bedrooms with double and single beds.
The house has huge terrace on the 1st level with all the furniture you might need to enjoy the sun of the Costa del Sol.
You will also find your own private pool which can be heated at your request. Among the facilities there is a ping-pong table at your disposal along with the barbecue, perfect to enjoy with your family.
You will find a couple of restaurants and shops in walking distance from the house. However, a car is mandatory in order to go to the beach, supermarkets or shopping centers and to enjoy a bigger variety of places to eat out.
The area to no surprise is often visited by the golf lovers, as there are numerous golf courses for you to choose from.
It's also a great area to visit with small kids, due to the beautiful nature and parks, along with fantastic air quality thanks to numerous pine-trees there.
This is certainly a place you will want to come back to!




Basicdata:
Type:
Villa
Bedroom:
5
Sleep:
15
Bathrooms:
4
m² living:
550
m² plot:
1200
Near the coast:
nein
Distance:
Airport:
35 km
Beach:
5 km
Golf:
3 km
Shop:
1 km
Leisure facilities / Activities: / Property details:
View:
Sea view
Panoramic view
View to the pool
near centre
Suitable for:
Themes:
county like
car recommended
near Golf
Sightseeing
Families wellcome
Nightlife
Leisure facilities:
Commercial Centre
Shops
Restaurants
Pubs
Disco
Café
Internet café
Aqua - Parc
Lessure parc
Harbour
Church
Parc
Market
Activities:
Diving
Golf
Riding
Mountain biking
Sailing
Surfing
Swimming
Tennis
Water skiing
General:
linen, bed-sheets
towels provided
Outdoor:
Terrace
Terrace furniture
Balcony
Alarm
Garden
Sun beds
Barbecue
Parking
Private Pool
Heated Pool
Indoor:
Flatsreen TV
TV
Satellite
Internet
Air Condition
Heating
High-chair
Baby-cot
Washing machine
Iron
Iron-board
Trumble dryer
Kitchen:
Kettle
Toaster
Dishwasher
Freezer
Fridge
Coffee-machine
Microwave
Oven
Bathroom:
Beds:
2 Double beds
11 Single beds
0 Sofa bed
2021

01
02
03
04
05
06
07
08
09
10
11
12
13
14
15
16
17
18
19
20
21
22
23
24
25
26
27
28
29
30
31
January
Sa
Su
Sa
Su
Sa
Su
Sa
Su
Sa
Su
February
Sa
Su
Sa
Su
Sa
Su
Sa
Su
March
Sa
Su
Sa
Su
Sa
Su
Sa
Su
April
Sa
Su
Sa
Su
Sa
Su
Sa
Su
Sa
Mai
Sa
Su
Sa
Su
Sa
Su
Sa
Su
Sa
Su
June
Sa
Su
Sa
Su
Sa
Su
Sa
Su
July
Sa
Su
Sa
Su
Sa
Su
Sa
Su
Sa
August
Su
Sa
Su
Sa
Su
Sa
Su
Sa
Su
September
Sa
Su
Sa
Su
Sa
Su
Sa
Su
Oktober
Sa
Su
Sa
Su
Sa
Su
Sa
Su
Sa
Su
November
Sa
Su
Sa
Su
Sa
Su
Sa
Su
December
Sa
Su
Sa
Su
Sa
Su
Sa
Su
<<2020
2022 >>
= ARRIVAL DAY
= DEPARTURE DAY
= BOOKED
Rates
from
to
daily rate
weekly Rate
Minimum days
Prolongation
Basic rate
350.00 €
2450.00 €
7 days
1 days
01.05
31.05
360.00 €
2520.00 €
7 days
1 days
01.06
30.06
380.00 €
2660.00 €
7 days
1 days
01.07
31.08
480.00 €
3360.00 €
7 days
1 days
01.09
30.09
410.00 €
2870.00 €
7 days
1 days
01.10
30.11
390.00 €
2730.00 €
7 days
1 days
01.12
10.01
430.00 €
3010.00 €
7 days
1 days
departure cleaning
180.00 €
breakage deposit
500.00 €
BOOKING TERMS
If nothing else noted in the description of this property, the booking terms are as follow:
30% as downpayment
20% 90 days before the arrival
50% 30 days before the arrival as balance, with this last payment you can also pay the security deposit, or the arrival day in cash.Top

|

Video

|

Availability

|

Rates

|

Map

|

Reviews

|

Contact details

|
Contact details:
HLL Holiday Locations LTD
61-63 Lord Byron Street, 5th floor, App. 502 - ; CY - 6023 Larnaca - Cyprus
Tel.: +357 240 204 78 Office Cyprus 9h30 - 16h (MEZ + 1 h)
Tel: +34 664 447 173 Office Spain 11h - 21h on 7 days a week
Mob.: +34.600.071.609
E-M@il:
mail@holiday-locations.com
use our Live Chat if we are online
or otherwise
Please take contact:




Requested property: 5 bedroom villa with heated pool in Mijas, sea views, close to golf, Mijas.

Wonderful 5 bedroom villa in Las Lagunas de Mijas for rent, enjoying sea and mountain views. This charming villa is situated in a very quiet residential area and offers views to the sea and mountains
---
similar properties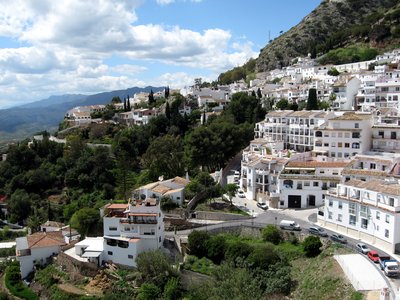 (Villa with 5 bedrooms in Mijas village)